Continuing Education Opportunities for Program Graduates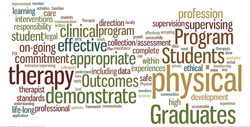 Lifelong learning is critical to continuing excellence in service delivery. As professionals we must seek to keep our knowledge base growing and look for ever better ways to serve our patients. As busy professionals we often struggle to find opportunities that are close to home and affordable.
Murray State College Allied Health programs plan continuing professional development and clinical workshops to meet the needs of our graduates and to promote our programs to clinicians in our service area. We welcome PTAs and PTs interested in supporting the program to attend.
---
Physical Therapy Continuing Education - 2017
Course Description: "Others above self!" Application of the Golden RuleApproved requested for 3 hours of Category A Ethics continuing education hours – Course
# 201710273
November 21st, 2017 - 1:00pm to 4:00pm
The "Golden Rule" is a global standard that is accepted across many if not most cultures and religions. While this may be common knowledge to PTs and PTAs, the application of the Golden Rule is often lacking in the world today. This course will make the connection between our core physical therapy ethics and this core cultural standard. We will discuss this most basic of human ideas applies to ethical physical therapy practice. This course will review Core Ethical Documents of the Physical Therapy profession with application of the Golden Rule with individuals with differing beliefs, cultures, politics, and religion.
Course Flyer - click here for more information
Manual Therapy for the Sacrum and Pelvis - February 25, 2017 -
Course #201710271
The use of manual therapy as an intervention within the physical therapy plan of care is well established as safe and effective across various patient populations and age groups. This course will provide a review of anatomy of a common area of restriction and dysfunction. The sacrum and its relationship to the pelvis and lumbar spine are often a focus of physical therapy intervention in the patient with both primary and compensatory mobility impairments. This course will present gentle positional techniques that use the patient's active muscle contraction force to release restrictions and promote enhanced normal joint motion. This course is for physical therapists and physical therapist assistants.
Please contact us if you have questions. grobinson@mscok.edu
Course Flyer - click here for more information
To register for a course by credit card, go to the MSC Foundation page by clicking on the Foundation log below and then look for the Donate link at the bottom of that page. It looks like the image below.
You will need to complete the form with your credit card info and then review your donation/registration and then click on the SPECIAL INSTRUCTIONS box and identify your registration to the PTA ACCOUNT.